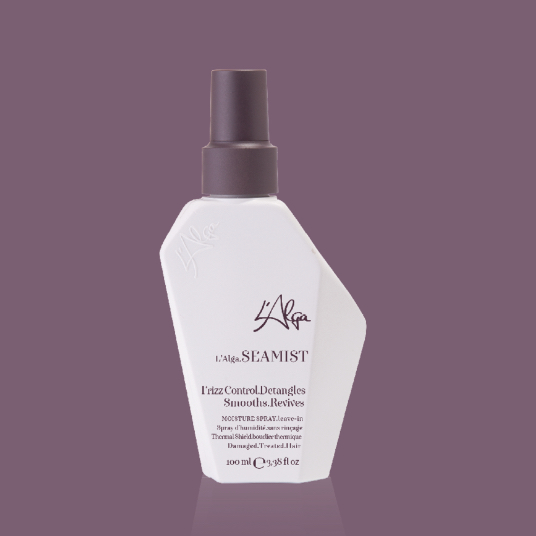 L'Alga SEAMIST
Moisture leave-in spray. Voorkomt kroezen. Ontwart en hydrateert. Conditioneert, verzacht, versterkt, beschermt en verbetert het haar en de hoofdhuid.
Met AlgaNord 5 ™ -complex
De unieke SEAMIST MOISTURE SPRAY is een hydraterende leave-in behandeling voor droog tot zeer droog haar om zo de vochtbalans in evenwicht te krijgen. Terwijl het tevens glans geeft en beschermt tegen verdere uitdroging door föhn of stijltang en invloeden door UV-straling. Bio Restorative Complex -inclusief Alga Nord 5 ™, Biotin en Niacinamide- herstelt de schade aan het haar van binnenuit. Het haar wordt glad en is ontwart. Het lichte gewicht van het krachtige serum beschermt het haar tegen de hitte van thermische hitte bronnen tot 230 ° C, UV-straling en statische elektriciteit.
Gebruik: Spray royaal op vochtig of droog haar vóór het stylen met warmte. Gebruik op droog haar voor UV bescherming. Spray een lichte nevel op reeds voltooide kapsels als extra bescherming.
Sulfaten en parabenen vrij.