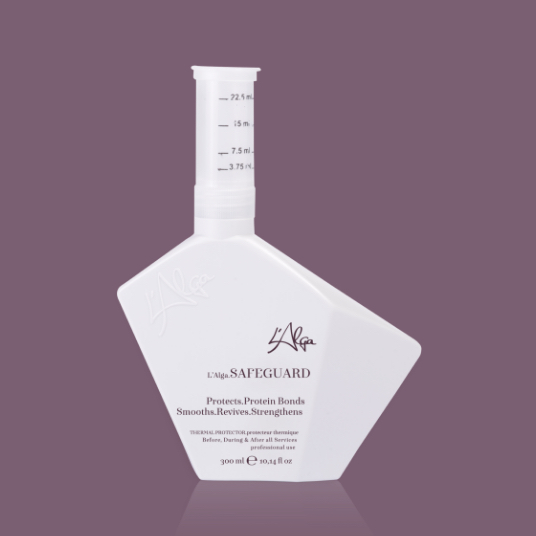 L'Alga SAFEGUARD
NIEUWE TECHNOLOGIE DIE VOORTGEKOMEN IS UIT DE BEHOEFTE HAAR TE BESCHERMEN TIJDENS TECHNISCHE HAAR BEHANDELINGEN ZOALS BLONDEREN, CHEMISCH STIJLEN OF KLEUREN.
De unieke en geconcentreerde SafeGuard ondersteunt onze professionele productlijn door extra bescherming te bieden tegen intensieve haarbehandelingen. SafeGuard voorkomt beschadiging en maakt het haar sterker en gezonder na elke chemische stijl of kleur behandeling in de professionele salon. SafeGuard is een warmte geactiveerd thermisch polymeer dat op moleculair niveau werkt om gebroken verbindingen in het haar op te sporen en te herstellen. Het polymeer is een beveiliging die er voor dat het haar beschermt wordt, waarbij voedende elementen in het haar blijven. SafeGuard fungeert als een thermische isolatie om het haar te beschermen tegen beschadiging tijdens kleuren, blonderen en chemisch stijlen van het haar.
SafeGuard: GEEFT HET EEN LANGE TERMIJN EFFECT VOOR GEZOND EN STERK HAAR.
KAN GEBRUIKT WORDEN VOOR MEERDERE SOORTEN BEHANDELINGEN TIJDENS HET BEZOEK IN DE SALON. VOORKOMT DE GEBRUIKELIJKE SCHADE AAN HET HAAR ZOALS HET AFBREKEN EN DROOG WORDEN. AANBEVOLEN OM TE GEBRUIKEN OP HAAR DAT OVERBEHANDELD, FUTLOOS EN DROOG IS. HET EINDRESULTAAT IS SCHITTERENDE GLANS EN STERKER HANDELBAAR HAAR.
Sulfaten en parabenen vrij.