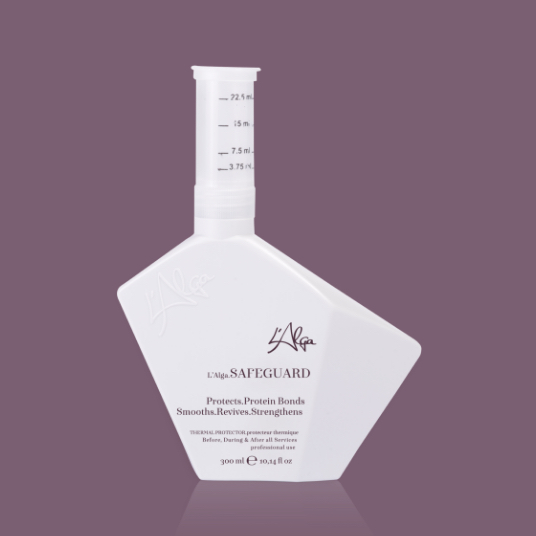 L'Alga SAFEGUARD
New technology that emerged from the need to protect hair during professional services such as lightening, straightening, or coloring.
With AlgaNord 5™ complex
The unique and powerful SafeGuard supports our professional line of products by providing added protection from intense hair services. SafeGuard prevents damage and rebuilds stronger, healthier hair after every heat or chemicalrelated service in the salon. SafeGuard is a heat-activated thermal polymer that works on a molecular level to seek out and restore broken bonds in the hair. The polymer creates a safety net to protect the hair and lock in nourishing elements deep inside each strand. SafeGuard acts as a thermal insulator to protect hair from damage caused during lightening, bleaching, chemical straightening, and heat-ironing of the hair. SafeGuard: long term effects that build healthier and stronger hair. Allows for multiple procedures in one-salon-visit without typical damage such as extreme dryness or hair breakage.
Use: recommended to use on hair that is over-processed, weak and dry for an end result of stronger, luminously shiny, and manageable hair.
Sulfates and Parabens free.