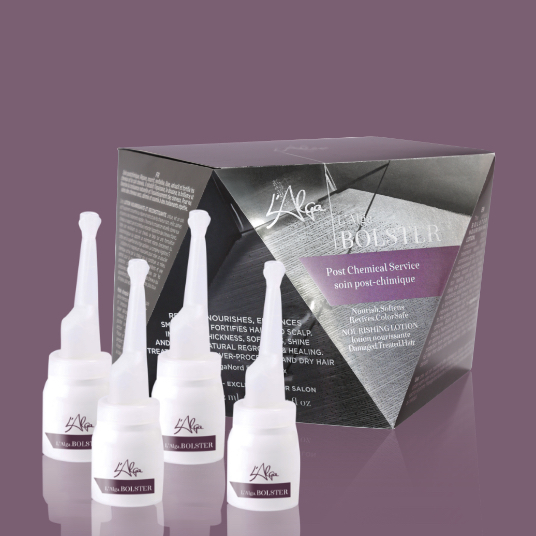 L'Alga BOLSTER
Post chemical service. Repairs, nourishes, and enhances smooth hair while fortifying hair and scalp. Improves thickness, softness, and shine; assists natural regrowth & healing. Treats damaged, over-processed, and dry hair.
With AlgaNord 5™ complex
The unique BOLSTER NOURISHING LOTION, highly concentrated active treatment repairs and conditions aging, damaged, over-processed, and dry hair. Assists natural growth, makes hair healthy-looking, and delays the growth of grey hair. The revitalizing scalp treatment is based on a bio-technology formula that provides intensive nourishment to each hair shaft from within. The AlgaNord 5™ complex, Biotin, and Magnesium combine to create a heat-activated thermal shield which forms an optimal environment for lustrous hair growth and protection from heat-damage – for hair that looks and feels healthier, softer, thicker, and denser.
Use: one vial per treatment after shampooing. Slightly warm the vial under warm water and gently break vial cap. Dispense drops onto hair one section at a time. Massage and leave for 5 minutes. Rinse. Can be used as often as needed.
Sulfates and Parabens free.