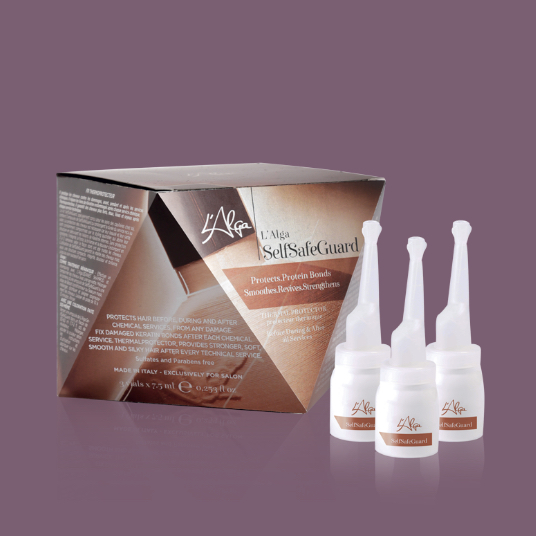 L'Alga.SelfSafeGuard
Protects hair before, during, and after chemical services, from any damage. Fix damaged keratin bonds after each chemical service. THERMAL PROTECTOR, provides stronger, soft, smooth, and silky hair after every technical service.
With AlgaNord 5™ complex
The SelfSafeGuard kit designed for home hair care contains 3 SelfSafeGuard vials to extend the longevity between services received in the salon. Hair protection is necessary as its beauty and health is constantly compromised by the daily styling that damages the structure and internal keratin bonds. Without constant protection, the hair's integrity, strength, shine, and softness fade in 3-5 weeks (depending on how hair is treated). The use of L'Alga.SelfSafeGuard guarantees hair vitality, compact structure, integrity, softness, and brilliance until the next salon service.
Use: As bond repairing treatment – Shampoo with L'Alga.SEAWET SHAMPOO and towel-dry hair. Add 1 vial of L'Alga.SelfSafeGuard to one application of L'Alga.BOOST CONDITIONER or L'Alga. SEACURE MASK, mix, apply and comb through hair and leave in for 10-15 minutes. Rinse.
Sulfates and Parabens free.
Size
3 VIALS X 7.5 ML
3 VIALS x 7,5 ML in a box